Sooooo, you may be thinking to yourself, what if I don't eat Corned Beef and Cabbage on St. Patrick's Day this year??? Am I going to lose my mojo? Not have good luck the rest of the year? Will a leprechaun come into my home and steal my favorite green shoes in the middle of the night? You can rest assured, none of these outcomes have been scientifically proven, so just to be sure and to avoid any unnecessary loss of luck or green shoes, consider whipping up the famed St. Patrick's Day dish at home for family and friends. Or if you are not feeling the extra work (or fun depending on how you see cooking) the Charleston City Paper has put together a list of some great local restaurants and pubs showcasing their best Corned Beef and Cabbage for St. Patrick's Day in Charleston.
If you are a do-it-yourself type and enjoy cooking, here's a great recipe to try at home (credit Food52), or read beyond the recipe link and notes for the Charleston City Paper excerpt and link to great local restaurants.
Suzanne Goin's Corned Beef and Cabbage with a Parsley-Mustard Sauce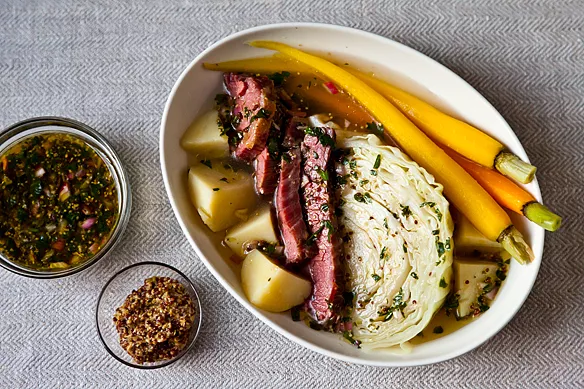 Author Notes: This California twist on the corned beef and cabbage feast is untraditional in all the right places -- and almost as easy as the old school dump-in-the-crock pot approach, with a few brilliant tweaks. Goin divorces the vegetables from the meat so they're free to cook in their own time. In an exciting twist, she also throws the beef in the oven to brown and crisp up a bit at the end. Finally, she gives it just what any salty, long-cooked broth craves: a sauce that vibrates with life. Recipe adapted very slightly from Sunday Suppers at Lucques by Suzanne Goin with Teri Gelber (Knopf, 2005) —Genius Recipes
Here's a little excerpt about Corned Beef and Cabbage from a Charleston City Paper write up, with a link to the complete article and restaurants at the bottom:
""Corned beef is as Irish as food can get, right? Well, not exactly.

Corned beef comes from an ancient tradition across Europe and the Middle East of preserving meat through salt-curing. From the 17th to mid-19th centuries, Ireland produced and exported vast amounts of corned beef, primarily sending it to the British and French colonies in the Atlantic. As demand for the meat increased, the land needed for pasteurizing cows increased. This led the Irish to farm potatoes on the small plots of less productive land. The beef they produced was too expensive for the native Irish to eat, so corned beef never became a national Irish dish. In the United States, however, Irish-Americans used corned beef as an alternative to bacon. Corned beef and cabbage is an Americanized version of the traditional Irish bacon and cabbage.

So, it's an Irish-American tradition, but that's still a reason to enjoy it on Saint Patrick's Day! And there a few places in town that are offering the dish during the holiday.""
Charleston City Papers List of Places to Eat Corned Beef and Cabbage for St. Patrick's Day
ENJOY YOUR ST. PATRICK'S DAY!!!