One of the first things a client usually asks is "Are you going to hold an Open House?" While most would think the immediate response would be 'Of Course!" there are a few important things to consider before holding an Open House in Charleston or anywhere.
Security Issues and Theft – These are the biggest drawbacks and reasons to avoid holding an open house. When holding an Open House, you do not know who is coming into your home. Think about it…these are strangers who you've never met before you are opening your doors to come in and walk around your family's home, the most sacred of spaces. They could be looking for access points, security weaknesses, valuables, or even unlatch a window for later entry. While most agents who hold Open Houses have people sign in and may or may not check their ID, the agent is still alone in your home with a stranger or multiple strangers at the same time and having to keep an eye on ALL of them. They could be legitimate, or they could have other nefarious motives. This gentleman below was arrested for stealing at Open Houses, but worse things have happened, even when taking precautions. Kudos to the North Charleston Police Department for capturing Mr. Anthony Silveira!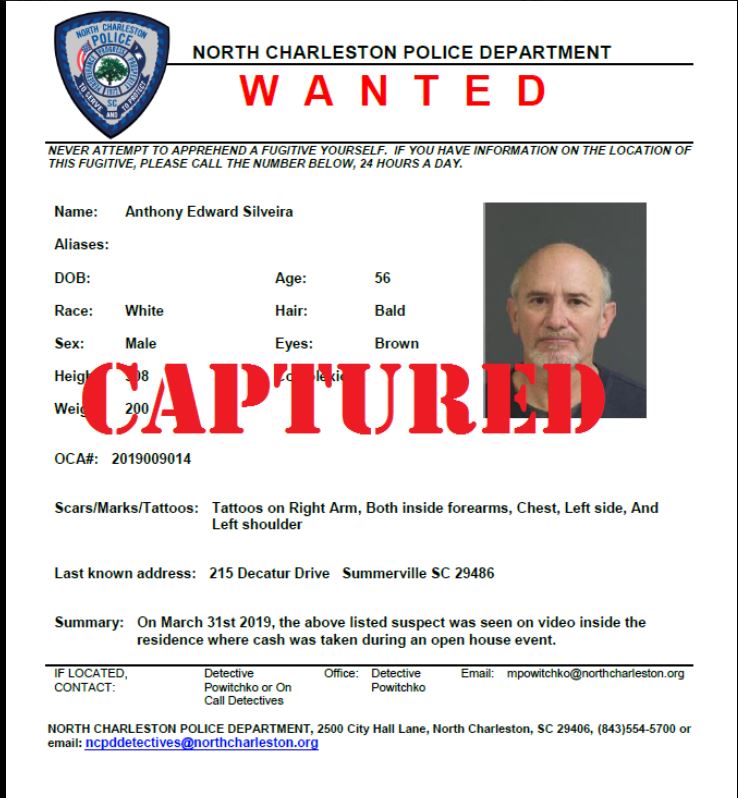 Unqualified Buyers - On top of the fact that strangers are coming into your home, you don't even know if they are qualified with a lender and can afford to purchase your home! There is no way to check someone's lending credibility, if they have a high enough credit score, or if they have even begun seeking financing options unless they are carrying around a pre-approval letter from a bank and I have yet to see that in my years of experience. Vetting buyers' financial capability is an important agent duty to the seller, but this is not possible to do during open houses as it involves reviewing pre-approval or pre-qualification letters and actually picking up the phone and calling the lender.
Nosy Neighbors and Future Home Competitors - Another thing that happens usually during Open Houses is that the nosy neighbor you may not know, but they see your yard sign in the yard, will come by to take a looky-loo around your home. Also future home sellers in the area may come by to check out their 'competition'
Final Thoughts - Open Houses can be OK for getting the word out a little bit, and you may get lucky and find that needle in the haystack buyer, but the truth is a majority of home buyers are looking online these digital days of real estate shopping and statistics show open houses very rarely result in a netting a buyer. Some agents and brokers like to hold Open Houses because it can help them get possible buyer leads, but again it rarely benefits the home seller. To myself and most home sellers the risk simply is not worth it. Everyone has to determine their own level of risk they are willing to take and should they choose to do an Open House take extra steps to ensure their safety and the safety of the agent alone in your home with strangers. In the end, it's always best to have potential buyers see your home with a licensed real estate professional in South Carolina. If you have any questions about Open Houses, Listing your home, or Buying a Home in Charleston, Summerville, Mt. Pleasant, or anywhere in the Greater Charleston Area call, text, or email me anytime.
Have a great day and be safe out there!
Brian
p.s. you can sign up for free real estate newsletters with helpful tips and tricks, or learn more on social media too SC Home Guide!